Student Senate
Representing Student Voices
The Student Senate provides students with the opportunities to participate in the college's participatory governance process, to work with the Sierra College community to develop activities, support programs and services that promote student success and enhance our campus community.
About the Student Senate
You will find being a member of the Student Senate is both rewarding and demanding at the same time. The skills you develop working with the faculty and staff on campus, you will use long after you leave Sierra College.
The Student Senate is responsible for an annual working budget of over $275,000 in program funds. Thank you for your support of the Associated Students.
On this page, learn about: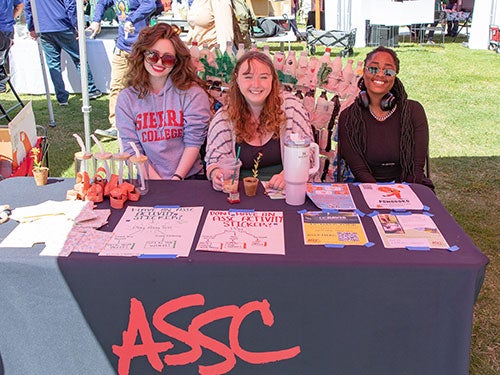 ---
Student Senate Meetings
Rocklin Meetings
Student Senate meetings are open to the public and everyone is encouraged to attend. During the fall and spring semesters, Student Senate meets every Thursday from 2 to 4pm via Zoom Conference Call.
Zoom Meeting ID: 933 5011 3594
Password: assc22-23
Student Senate does not meet during college breaks or recess.
NCC Meetings
The Nevada County Campus Student Senate meets Tuesdays from 2 – 3 pm in N1-205 and via Zoom. Agendas and minutes are posted on the Student Senate bulletin board (N5-103).
Zoom Meeting ID: 831 7809 2147
Meetings are chaired by the NCC Vice President and decisions are made by the NCC Student Senators who are elected by the students of NCC. Any student is welcome to attend.
---
Inter Club Council (ICC)
Inter Club Council is an organization reporting to the Student Senate that represents the needs and interests of all campus clubs and works to promote interaction and collaboration among the campus clubs. Any student is welcome, whether it's current club member or students looking to start a club.
The Inter Club Council (ICC) meets the 1st and 3rd Thursday of the month from 4 pm to 5 pm via Zoom Conference Call.
Meeting ID: 956 6173 8417
Password: assc22-23
---
Student Senate Bylaws and Constitution
The Associated Students' Constitution defines our mission, purpose and structure. We pledge to serve Sierra College Students in their best interest. The Associated Students of Sierra College Constitution (May 2014) belongs to the students of Sierra College. To revise it, the Student Senate must bring it forward for a district-wide student vote.
The Student Senate Bylaws include Financial Code, Duties and Responsibilities, and Election Code. The Student Senate Bylaws define our organization and financial structure as outlined in the Constitution. The Student Senate votes to change and upgrade these bylaws as needed.
---
Faculty of the Year Award Nominations
The "Faculty of the Year" award is to acknowledge those professors who go beyond simply lecturing students; they bring learning alive. They are more than just professors; they are role models and mentors in and out of the classroom. Each year the Student Senate nominates professors as "Faculty Members of the Year" for each of the four campuses.
Find ASSC Senate on Social Media